We have been established since 1989 and are makers of fine curtains and soft furnishings. All of our curtains and soft furnishings are bespoke and are hand sewn, made specifically to your requirements.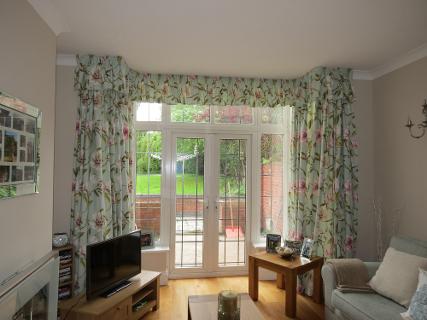 IMPORTANT: If you send us an enquiry by email please don't forget to include your full name, address including postcode and most important a contact phone number.
Phone: 0121-377-6217
Mobile: 07961-810355
Email: curtainsbyjulie@hotmail.co.uk
We offer a complete making-up and alteration service with fabric supplied by you.
This means you save money by not paying High Street prices charged in local shops.
You purchase your fabric from where you want to, at the price you want to pay.
Put in a nut shell you do the shopping part we do everything else, including free curtain fitting on all orders with making up over £60.00.
We will send you a free quote by email telling you how much fabric you need buy.
If you don't know where to buy your fabric from we can advise you on the best local and online outlets to use.
To complete the package we can supply and fit your windows from a large range of brand name curtain tracks, poles and accessories all fitted by our friendly and experienced fitting service.